About Kerfed Wood Designs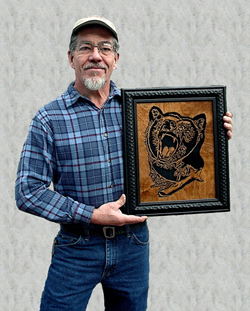 My name is Dennis Bradley, and having been employed in the construction industry for over 30 years, I needed a means of releasing pent-up frustration and stress. What started as a way to alleviate stress, has since progressed into an enjoyable hobby with plans to promote it into a full time 2nd career.
Each of these unique hand-crafted silhouettes utilize the technique of chiaroscuro, which is the arrangement of light and dark elements in a pictorial work of art. The visual representation is absolutely stunning.
I use cabinet quality Baltic Birch in all of my cuttings, stained golden oak, and finished with two coats of satin lacquer. They are matted and mounted under glass in a wooden frame.
I employ patterns created by some of the foremost designers in the industry, Jeff Zaffino. Thomas J. Mullane Jr., Gary Browning, and Lora S. Irish to name a few. Almost any image can be utilized in these works, and I will entertain custom designs on inquiry.